Chemical Peel
Exfoliation, or facial chemical peeling, refers to a series of cosmetic procedures designed to rejuvenate the superficial layers of the skin using mild acids. These acids delicately dissolve and remove dead skin cells, resulting in skin cleansing, rejuvenation, and improved overall health.
It is recommended to undergo deep facial peels in a beauty salon. A qualified master will select the optimal product composition, perform the procedure in accordance with all standards, and develop a post-procedure recovery plan. In our salon, can access a full range of exfoliation-related services.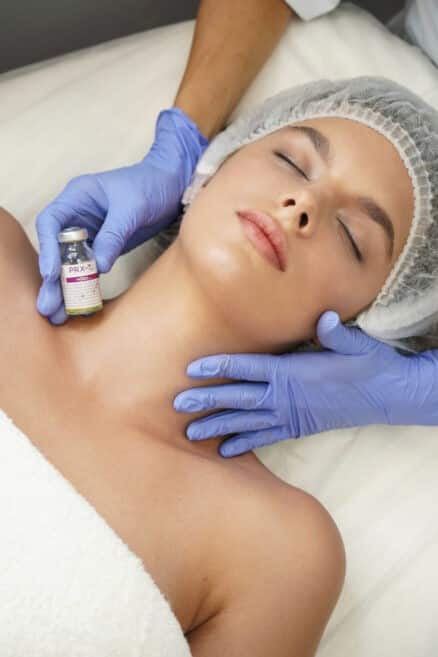 Indications for Chemical Peels
Thanks to modern advances in cosmetology, chemical peels can be tailored to suit every skin type. Generally, all existing types of procedures can be categorized into three major groups:
Superficial exfoliation: This type of peel targets the top layer of skin cells without penetrating deep into the skin. It helps cleanse sebaceous glands, reduces the visibility of acne and breakouts, and evens out skin tone and texture.
Medium chemical peel: Suitable for oily and thick skin with clear signs of aging or acne. It initiates the regeneration process, activates collagen production, and visibly rejuvenates and smoothens the skin.
Deep cleansing: This procedure is performed under the supervision of an experienced dermatologist. It effectively addresses hyperpigmentation, completely eliminates shallow scars and minor blemishes. Deep chemical peels are recommended for individuals over the age of 45.
The proper selection of a facial chemical peel allows for long-term delay of the appearance of fine lines, complete elimination of acne and breakouts, and enhanced skin receptiveness to active products like creams, serums, and masks.
Procedure Specifics
Facial chemical peels are typically best performed during the fall and winter months when sun exposure is minimal, ensuring that ultraviolet radiation does not negatively impact the delicate skin. Peels are conducted in courses consisting of 7-10 sessions with specific intervals.
The cost of the treatment cycle depends on the complexity of the procedure, chosen cosmetic products, and duration. A specialist will develop a customized skincare plan for each client during the consultation. This personalized approach guarantees the effectiveness and safety of the procedures.
In our salon, chemical peels are performed exclusively with certified products. During the consultation, a cosmetologist will determine the required intensity of the treatment and offer several exfoliation options. Trust your beauty and youth to the professionals!