Laser Hair Removal
Laser hair removal is a painless and safe way to get rid of unwanted hair on any part of the body for a long time. The procedure is in high demand among clients of PIED-DE-POULE salons, but not everyone is aware of its nuances.
Principle of Laser Action
In modern cosmetology, the diode laser is most commonly used. It can focus the beams to the desired depth, targeting only the hair follicle. In addition, the diode laser:
is effective on hair of any color except gray;
can be used on all skin phototypes;
heats the target area less than other methods, virtually reducing the risk of burns to zero.
How Does the Laser Work?
The focused energy beam heats the hair follicle to complete destruction. After heating, the skin cools down, and at this moment, you may feel a slight tingling sensation. Over time, the follicle regenerates, but this process takes several years. This is why laser hair removal is an excellent solution for those tired of dealing with unwanted hair using razors, creams, wax, or sugaring.
Preparation for the Procedure
Specialists at PIED-DE-POULE salon will determine if laser hair removal is right for you. During the initial consultation:
Individual contraindications to the procedure are identified.
The thickness, quantity, and color of unwanted hair are determined. This is necessary to adapt the technology and finely tune the laser.
A compatibility test with the technology is performed. Several test flashes are done, and if necessary, depth and intensity of the treatment are adjusted.
As a result of the initial consultation, the client receives an individual hair removal plan. The specialist provides personalized recommendations and calculates the number of required procedures. Typically, sessions are spaced 4 to 6 weeks apart, but the exact timing and number of sessions can only be determined in a personal consultation.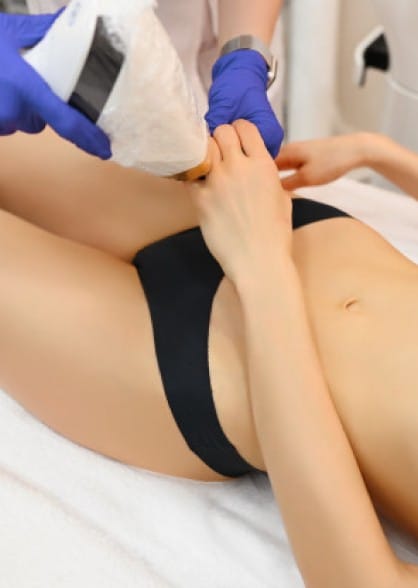 Stages of Laser Hair Removal
Two weeks before visiting the salon for laser hair removal, refrain from tanning in a solarium or on the beach.
The length of the unwanted hair in the depilation area should be minimal. This is because long hair can potentially cause skin irritation when heated. Therefore, it is recommended to shave the area with a razor beforehand. Avoid using creams, wax, or sugaring.
There are also general rules that the specialist will ask you to follow before each procedure:
The treatment area should be clean from deodorants, creams, etc.
If facial hair removal is involved, remove makeup.
Wear protective goggles that will be provided to you to prevent accidental eye injuries.
Each session lasts from 15 to 30 minutes. For clients with very sensitive skin or those getting a bikini line treatment, topical anesthetic sprays may be used.
How Sessions Are Conducted
Before the procedure, a gel is applied to the skin area the specialist will work on to improve conductivity and the laser's effectiveness. Additionally, the gel cools the skin and prevents irritation.
If sensitive areas, like the bikini line, are being treated, an anesthetic cream is applied before the gel. The specialist will start the procedure only after ensuring that the cream has taken effect.
The laser device delivers up to 12 pulses per second, allowing for the efficient treatment of a significant area in a short time. However, during the first session, no more than 30% of unwanted hair is removed. This is due to the cyclic nature of hair growth—some are already on the surface, while others are in a "dormant" state under the skin. This is why laser hair removal is performed in multiple stages.
The new hairs that appear between sessions are thinner, softer, and lighter in color than usual.
After the laser treatment, the gel is removed, and a soothing cream with panthenol is applied. Depending on the sensitivity and phototype of the skin, the treated area may appear irritated for a few hours. All signs of irritation disappear within a day.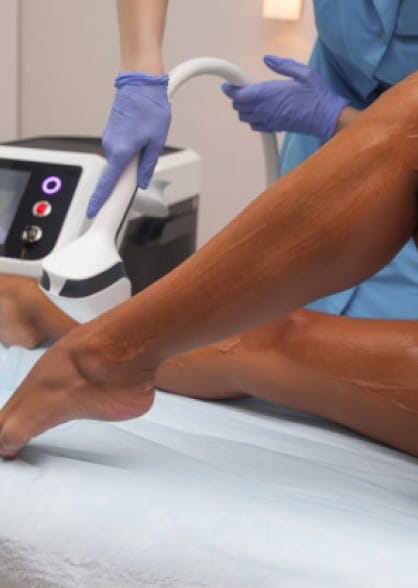 What to Do Between Procedures
During the weeks between procedures, new unwanted hairs will appear on your body.
To deal with these new hairs, only use a razor.
Refrain from tanning in a solarium throughout the entire course of procedures.
Use SPF creams and avoid excessive sun exposure.
Between the first procedure and the time when hair stops growing in the treated area, it can take up to 6 months. However, afterward, you can enjoy smooth skin for several years!
Contraindications for Laser Hair Removal
Laser hair removal is ineffective on gray and very light hair. Questionable results may also occur on areas with tattoos.
There are several contraindications to laser hair removal that need to be considered:
Pregnancy and lactation - the effects of laser exposure on a woman's body during these periods have not been studied. However, it is important to understand that these are times of hormonal changes in the body, so the results of hair removal can be unpredictable.
Insulin-dependent diabetes.
Acute herpes outbreaks in the area where unwanted hair is being removed.
Infectious diseases.
Skin damage - cuts, rashes, acne, etc.
Oncological diseases.
It is advisable to avoid laser hair removal during menstruation, and during exacerbations of chronic diseases.
If there are many moles in the intended hair removal area, the procedure can be performed only after consulting a specialist physician. Consultation with a physician is also required if you have varicose veins in the area.
PIED-DE-POULE salon specialists are ready to bring beauty to you seven days a week, without weekends and holidays. Come for a consultation, and we will help you find the most effective way to get rid of unwanted hair and achieve smooth, beautiful skin for a long time!