Mechanical Facial Cleansing
Get a dose of freshness and cleanliness by seeking help in combating "summer" skin issues. Summer is a season of vacations, relaxation, and new encounters. It's the perfect time to look your best. Dust, sweat, and the oil from sunscreen can clog your pores. Blackheads cover your face, leading to acne and inflammation.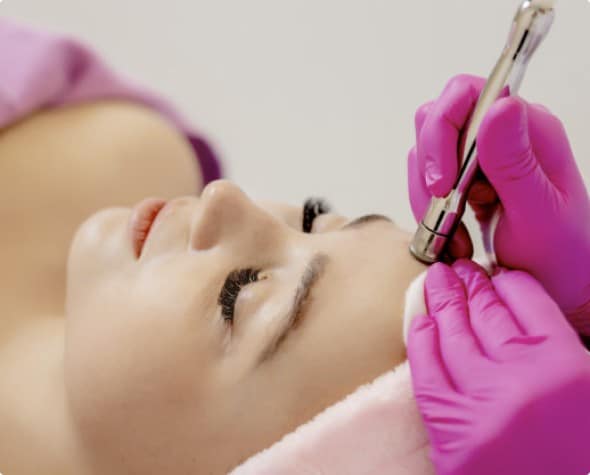 How often is mechanical facial cleansing needed at the salon?
Cosmetologists say that during the harsh summer period, daily care is necessary. Cleansing, moisturizing creams, and soothing masks help restore the skin's moisture balance and allow your face to relax. Daily routines do not require special knowledge or equipment. However, only a qualified specialist can perform deep mechanical cleansing. If you want to maintain a youthful appearance, preserve your natural beauty, skin elasticity, and softness, professional care is a must year-round. In the off-season and winter, two visits a month are usually sufficient, but in the summer, it's determined individually. What happens if you don't take care of your skin? Taking care of your appearance is not a trendy new trend or an attempt to extract money from clients. Neglecting cleansing can lead to:
An untidy appearance. Skin without proper care in the summer resembles a fly agaric. Blackheads become more pronounced, especially by evening. Essentially, this is sebum adhering to the grease. Such "decorations" are unlikely to do you any honor.
Serious problems with the epithelium. Poorly cleansed skin, laden with dust, is the cause of acne, comedones, and pimples. Without proper care, the skin's acidity can change.
So, on one hand, hygiene, beauty, and health, and on the other hand, oily skin shine, dirt in the pores, and health problems. Do you really want that for yourself?
How to prepare for the procedure?
Choosing a service solely based on age is not recommended. Skin type, its condition, and other individual characteristics matter. Cosmetologists at PIED-DE-POULE salon consult with each visitor and determine which service is the perfect fit. Spend 10 minutes talking to the master about your body, take an hour for the procedure, and enjoy the results for many months.
Contact the administrator. They will schedule an appointment for you, and rest assured, you will be expected at the appointed time. We don't have overlaps between visitors because the temple of beauty is not an assembly line, and our visitors should not wait in line.
Do not apply makeup before your visit. If you have allergies, inform the cosmetologist before the procedure. It's also a good idea to consult with a dermatologist in advance.
Mechanical cleansing involves the removal of dirt from the pores with special tools. The process may be accompanied by unpleasant sensations.
After the procedure, some redness may occur. This is not a cause for concern, and a soothing mask and moisturizing cream will help. However, it's best not to schedule a cosmetologist appointment on the eve of an important meeting. The body's reaction is individual.
Book for mechanical facial cleansing