Eyebrow coloring with henna
Eyebrow architecture has confidently taken a leading position among modern beauty trends. With this technique, you can make your gaze more expressive and your appearance more interesting and attractive. The shade of your eyebrows directly affects the perception of your face and, therefore, the first impression you make on those around you. Henna coloring is a popular service among our salon clients. It is an ideal alternative to tattooing and offers a great opportunity to quickly transform your appearance.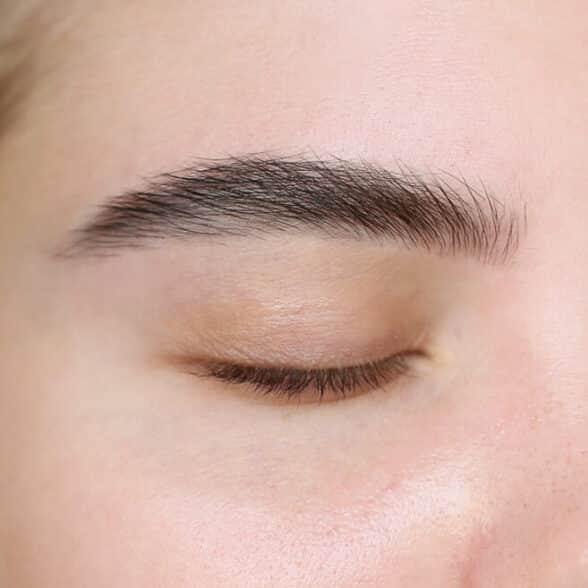 Benefits of henna eyebrow coloring
The eyebrow coloring procedure involves not only changing the shape but also correcting the shade. Hairs can be tinted with chemical dyes or henna. The second option is preferable for many reasons:
Safety. Henna is a natural dye of plant origin. It does not harm either hair or skin. Allergic reactions are extremely rare.
Ease of use. Henna powder is mixed with water and applied to the eyebrows. No oxidizing agents or fixatives.
A range of natural tones. With the help of henna, eyebrows can be painted in different shades of brown and red. This palette looks as natural as possible.
Gentle tattooing. Henna colors not only the hair but also the skin underneath. Thus, you get an effect that is close to a permanent tattoo.
Eyebrow coloring with henna is most suitable for blondes and brown-haired women. The effect of the procedure lasts for 2-4 weeks.
Technology of henna eyebrow coloring in the salon
It is not recommended to dye eyebrows with henna at home, as the result may be disappointing. Our master will choose the perfect shade, properly prepare the skin and hairs for the procedure, and apply the henna for the appropriate amount of time.
The process usually starts with eyebrow shaping. Excess hairs are removed, and defined lines are drawn with a pencil. A fatty cream is then applied to the upper eyelids and brow bones to prevent the henna from spreading. Next, the master prepares the henna mixture and applies it to the eyebrows. The eyebrows are covered with a film and left for approximately 40 to 60 minutes.
Afterwards, the technician wipes off the henna with a damp cloth, and the client can see the initial result of the coloring. The color may initially appear intense or dark, but this is normal and will fade to a more natural shade within a few days. The color will last for approximately 2-3 weeks.
On the first day after the procedure, it is recommended to avoid intensive washing and applying makeup to the eyebrows. Henna-dyed eyebrows do not require any special care, except for avoiding swimming in chlorinated water, as it can dull the color.
To have your eyebrows become your signature feature, make an appointment for henna dyeing in our salon. Our experienced masters will ensure a pleasant and efficient procedure.