Eyelash Extensions
Extended eyelashes are not only beautiful but also very convenient. This procedure gains special popularity in the summer, during vacation season, graduations, and weddings.
However, at other times of the year, there are only slightly fewer who desire to make their eyes more expressive. Modern girls want their lashes to emphasize their gaze, always look as natural as possible, and not take up time for makeup.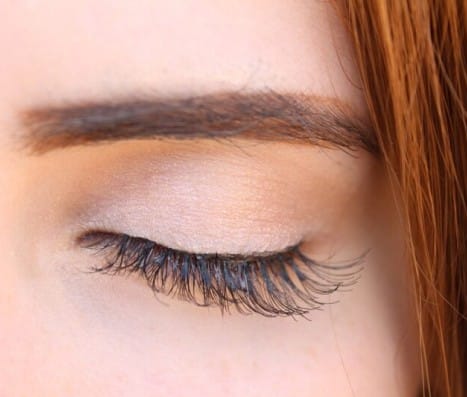 Types of Lashes
Different lash forms are determined by the type of curl, indicated by Latin letters:
J — barely noticeable, practically straight curl, creating the most natural effect of one's own lashes.
B — a slight natural curl, creating the effect of wider-open eyes.
C and CC — medium curl, one of the most popular types, providing the effect of expressive, widely-opened eyes.
D — pronounced curl.
L and L+ — deep curls, creating a bright effect. Perfect for women whose own lashes grow downward, have deep-set eyes, or droopy upper eyelids.
U — very curved lashes, creating a doll-like look.
Clients can choose lashes ranging from 6 to 21 mm in length and from 0.07 to 0.3 mm in thickness. Materials include "silk" (the thinnest), "mink" (denser), and "sable" (thickest). These names are conditional for the convenience of distinguishing them. In reality, all materials are of synthetic origin.
Standard lashes come in black and brown. However, to achieve a glamorous effect, you can choose any bright color: blue, emerald, violet, various shades of red and pink, silver, yellow, orange, etc. Additionally, a two-tone option is available — black with colored tips.
A professional lash maker will always advise the client on the optimal curl, length, and thickness in her case to emphasize natural beauty and make the gaze more expressive.
Book for eyelash extensions
Volume of Extended Lashes
At the PIED-DE-POULE beauty salon in Warsaw, specialists offer several methods of extension, allowing for different volume effects:
Partial volume. In this case, the master only extends the outer lashes. It is also possible to add hairs through every 1–2 lashes.
Classic method. Involves attaching lashes in a 1:1 ratio, meaning the master glues one artificial lash to each natural lash. The result is a maximally natural look without using mascara.
2D technology. Attachment of 2 artificial lashes to each natural one. This method is characterized by the same natural appearance of extended lashes as the classic, but with greater density.
3D technique. Attachment of 3 artificial lashes to each natural one. This option is suitable for girls who want to accentuate the eye shape.
4D method. In this case, the master attaches 4 thin artificial lashes to each client's natural lash. Proper selection of curl and length allows achieving a stunning volumetric effect.
"Hollywood" (mega-volume). A relatively new extension technique, also known as "velvet." Involves gluing 5–10 thin (up to 0.07 mm) synthetic hairs.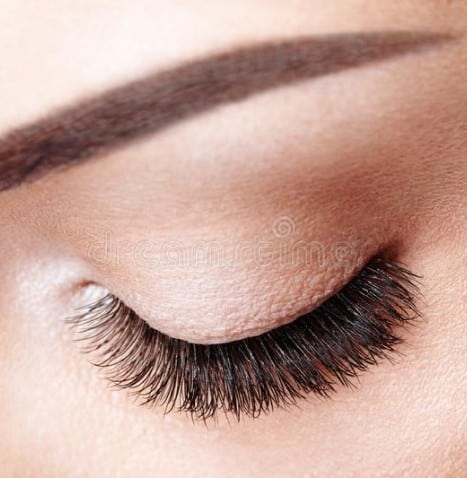 Effects of Eyelash Extensions
Classic extension allows for a visually enhanced look of lightly tinted lashes. This method is chosen by girls who prefer natural shades and the most natural makeup. It is ideal for those who simply want to emphasize their natural beauty and make a subtle accent.
2D extension also maintains a natural look. However, unlike the classic method, in this case, the eye and brow area become more expressive, and the lashes appear as if coated with mascara. Such lashes are suitable for both daily makeup and for business and festive occasions.
Many masters consider 3D extension the "golden mean". This technique allows for achieving dense and voluminous lashes. It is perfect for evening and festive events, poto sessions, and weddings.
Hollywood extension is recommended for girls who want to make a special emphasis on their eyes, achieving maximum expressiveness in their gaze.
Eyelash Extension Correction
Extended lashes naturally fall out along with natural lashes.
The duration depends on the individual characteristics of each organism and the impact of various negative environmental factors.
On average, the "lifespan" of artificial lashes is 6 weeks, but a correction may be needed after 3–4 weeks following the procedure. The rate of lash growth varies significantly, so after this period, the lash line of each girl may look different. For example, one may have more than 50% of artificial lashes remaining, while another may have only 25%.
In the first case, correction is required. It involves attaching new lashes to natural ones to fill the gaps in the lash line, restoring length and volume.
If lash loss is significant, performing a corrective procedure may not be practical. In such a case, it is recommended to completely remove the remaining hairs and start a new extension.
At PIED-DE-POULE beauty salon in Warsaw, professional lash makers with extensive experience work. They will take into account the client's unique features, consider their preferences, and provide qualified recommendations. We will turn your dream of perfect and captivating lashes into reality, giving you a seductive and alluring gaze.
Book for eyelash extensions