Daytime Makeup
Makeup is a woman's ultimate weapon. With the help of cosmetics, it's easy to transform into a stylish businesswoman, an elegant sweetheart, or a vibrant femme fatale. For everyday occasions, the key is a light daytime makeup look.
The makeup artists at our beauty salon know all about creating the perfect daytime makeup. If you want to enhance your natural beauty, entrust your look to the skilled hands of PIED-DE-POULE's experts. We'll select suitable cosmetics for you and create an impeccable look. It's easy, simple, and tasteful, and the price for daytime makeup won't break the bank.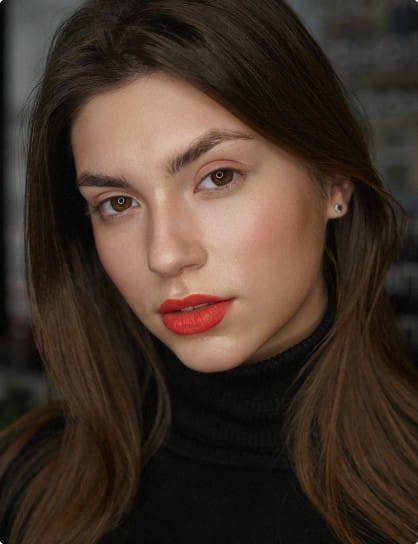 What Makes Daytime Makeup Special
Daytime makeup is considered calm and versatile. It's suitable for wearing outdoors, at work, when visiting friends, or for everyday events. It complements casual and even sporty styles because it's very natural and understated.
In general, there are several rules for applying daytime makeup followed by most makeup artists:
The foundation of the makeup is naturalness and an emphasis on natural beauty.
The skin should be flawless. To correct imperfections, professionals use daytime cream, concealer, foundation, and powder. Products are chosen to match the skin tone and texture.
All transitions and boundaries are carefully blended.
Subdued shades that are close to natural colors are often used: soft pinks, beiges, sands, milky tones, etc.
Lips are highlighted with a semi-transparent gloss or subtle lipstick. The latest trend is nude shades.
Eyebrows make the face more expressive. They are lightly defined with eyebrow shadows matching the hair color, or other suitable products.
Makeup is always tailored individually. The makeup artist considers eye shape, hair and skin color, and client preferences. A professionally done daytime makeup in the salon will suit any woman, provided it's done by a true professional.
How the Makeup Artist Works
Daytime makeup at the beauty salon takes about 30-40 minutes.
The procedure is relatively quick and consists of the following stages:
Consultation: The makeup artist selects makeup options based on the client's features, upcoming event, clothing style, and recommends makeup variations. You jointly choose the best look.
Cleansing: The skin is thoroughly cleansed before applying cosmetics. Gentle milk and toner are used.
Moisturizing: To prevent skin from drying out due to decorative cosmetics, moisturizers are applied.
Applying the Base: A makeup base is necessary. It evens out the complexion, conceals imperfections, and sets the applied makeup.
Applying Decorative Cosmetics: The makeup artist uses foundation, blush, eyeshadows, mascara, and other products. Cosmetics are chosen to look great in natural daylight.
Daytime makeup options can vary greatly, from strict business looks to fresh, light makeups suitable for a casual setting.
A touch of magic, and you see a beautiful woman with light makeup in the mirror. Now you can confidently go about your day.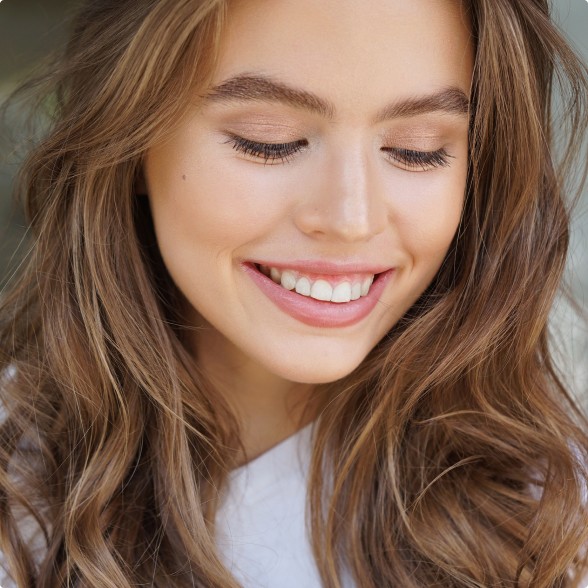 Services of Certified Specialists
Our PIED-DE-POULE salon welcomes everyone who wishes to transform themselves with light makeup. We use only high-quality cosmetics from well-known brands that do not dry out the skin, do not cause allergies, and do not smudge in the sun. Come to us and see for yourself the professionalism of our staff.
Book for daytime makeup