Wedding Makeup
On the day of your wedding, everything should be perfect, including the beauty look for the bride. Makeup artists classify bridal makeup as a unique category because it combines elements of both evening and daytime makeup. Its purpose is to accentuate the bride's natural beauty while remaining as natural as possible.
Choosing the right bridal makeup style right away can be challenging, which is why stylists often recommend a trial session. During the trial, the makeup artist and the bride decide on the focal points, discuss important details, and make the final decision. We invite you to book your wedding makeup and hairstyle appointment. The professional specialists at our salon will help you create a harmonious look. We offer affordable prices for our services while maintaining consistently high quality.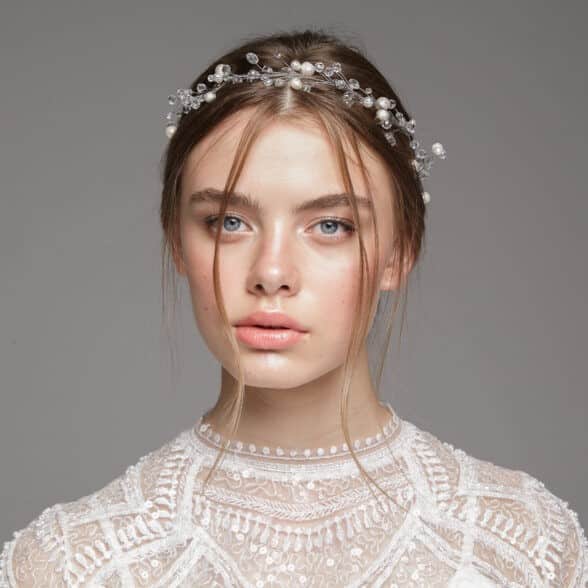 Rules for Bridal Makeup
The first thing to note is that every bride needs bridal makeup. Even the youngest and most beautiful brides want to enhance their attractiveness with makeup. If you don't do this, your lavish dress and stunning hairstyle will draw all the attention, and your look will remain incomplete.
Here are three more tips from experienced stylists:
Don't chase trends too hard. Trends come and go, but wedding photos will stay with you for life. Avoid overdoing experimental looks that you might regret later.
Consider the venue. Lighting can significantly affect how makeup looks. Outdoor lighting is soft and diffused, while indoor lighting tends to be warmer and harsher. Your makeup arsenal should be chosen accordingly.
Be cautious with beauty procedures before the wedding! It's best to avoid tanning beds and chemical peels shortly before the event. Don't stress your skin when you've already set a date for the big day.
Before the wedding, cosmetologists recommend performing only skincare procedures. Moisturizing masks, massages, and gentle cleansing are the optimal treatments.
Hairstyles and makeup for weddings should be chosen together. It's crucial that they harmonize and complement each other. The dress style and the overall theme of the wedding ceremony also play a significant role.
Before your initial meeting with the makeup artist, gather examples of makeup looks you like. The specialist will study these references and create a unique look based on them.
Features of Bridal Makeup
Bridal makeup should enhance the bride's appearance, making it more expressive and vibrant. All imperfections, no matter how small, should be concealed, while her virtues should be highlighted. The overall color palette of the makeup is chosen based on the bride's complexion. For eye makeup, it's recommended to use waterproof products since tears of joy are not uncommon during weddings.
Avoid excessive glitter and shimmer. Camera flashes can reflect off these particles, creating the appearance of oily skin. Products with light-reflecting elements should be used sparingly, only in specific areas of the face. The finished makeup is always set with a special spray to ensure it looks fresh and natural even after hours of photos and dancing.
Fashion trends in bridal makeup are constantly changing. In 2021, the most interesting trends include:
Dark red lipstick: A rich lip color won't spoil even the most delicate bridal look. Complement the look with silver or gold eyeshadows and gather long hair into a loose bun.
Bold eyeliner: Retro styling brings the focus back to the eyes. Large winged eyeliner makes the gaze deeper and more mysterious.
Radiant skin: Makeup artists often mix foundation with highlighter to give the bride's skin a natural glow. This technique makes the face appear healthy, fresh, and youthful.
If you're looking for a place to get beautiful bridal makeup, our salon is the perfect choice. Contact the salon administrator through any convenient method to inquire about service prices and schedule a consultation.