Hairstyles
An express hairstyle before meeting your friends, or maybe something unusual for a first date or a romantic dinner? How about an impressive look for a graduation, birthday, wedding, or an original style for a night out at a nightclub?
Our stylists offer various hairstyle options for all hair types and looks, tailored to your wardrobe and favorite accessories.
A hairstyle is the final touch to complete your entire look. It should be individual and unique, while also being comfortable and harmonious. We carefully select a hairstyle for each guest, taking into consideration their individual characteristics and aiming to enhance their natural beauty and hair texture.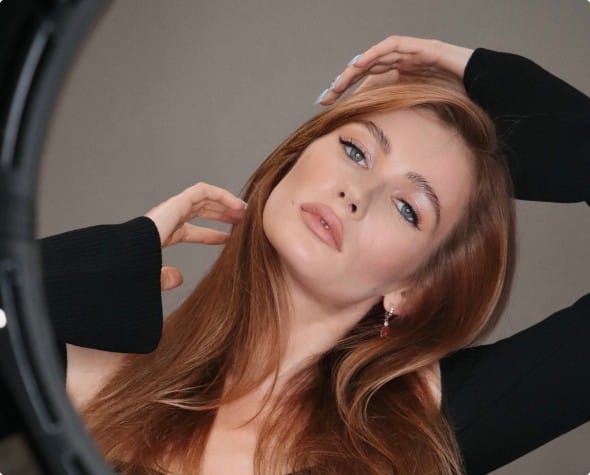 PIED-DE-POULE

is about creating uniqueness

When creating a hairstyle, our master takes into account individual characteristics such as hair growth direction, volume, density, length, and condition.

When creating an image, the master will take into account the individual characteristics of the hair: the direction of growth, volume and density, as well as length and condition.

Hairdressers-stylists of the salon work in various techniques and create professional hairstyles - from complex evening compositions to practical and comfortable everyday options.
For long hair: a high bun or a French braid, with or without bangs, "natural styling" or experiments with a parting? Consult with your stylist and choose what's right for you!
For medium hair: with curls or strands, braid or ponytail, side parting or glass effect? We know what's in fashion and what will suit you best.
For short hair: hairstyles with "smooth" or "wet" styling, perfectly straight or sloppy, Hollywood parting, low ponytail and much more.
We recommend taking a look at our portfolio to see examples of our master stylists' work. There, you can evaluate the salon's level of quality and discover trendy hairstyle options that may inspire you.
How does the procedure go? Simply relax and enjoy yourself
Our policy is to provide European-level services in the French style. We firmly believe that a visit to a beauty salon should be a pleasurable experience that inspires and uplifts your mood.
How does the procedure go? Just make yourself comfortable and have fun.
Our policy is to provide European-level services with French quality. In addition, we are convinced that a visit to a beauty salon should be enjoyable, inspiring, and improve your mood!
Therefore, at PIED-DE-POULE, we strive to ensure that when you leave our salon, you not only have a new look but also feel happy, satisfied, and leave with a smile! With our skilled hairdressers, attentive approach, top-class services, and comfortable atmosphere, we take care of every detail!
Throughout the procedure, our stylists utilize specialized cosmetics, choosing products only from the brands in which we have utmost confidence. All of our products are professional-grade, with many of them being specially sourced from abroad exclusively for PIED-DE-POULE salons.
Book a haircut