Machine Manicure
Manicure is an important part of personal care. Recently, machine manicure has been gaining increasing popularity due to its many advantages compared to traditional nail trimming. Looking for machine manicure?
In our salon, you will find top-notch experts!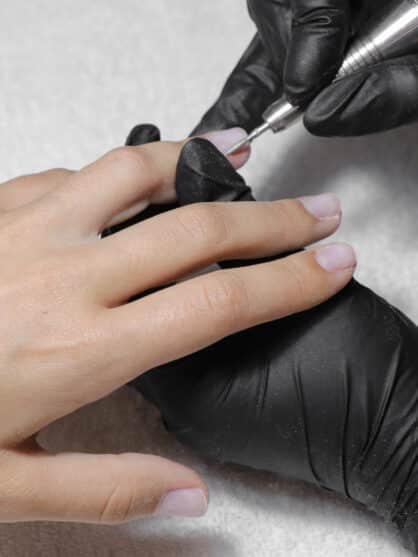 The Essence of Machine Manicure
Machine manicure is a method in which the cuticle is treated with a special device with interchangeable rotating milling cutters. Cutting tools are not used, which means the risk of injury and infection is minimized.
If you want to get a machine manicure, choose our salon. The effectiveness of this nail plate treatment method depends on two factors – the quality of the milling machine and the skill of the master. Even if you take beginner-level machine manicure lessons, you will need to practice a lot and work hard. So just trust our masters with your hands – and enjoy the magnificent result.
How to Properly Perform Non-Cuticle Manicure?
For a successful machine, or non-cuticle, manicure, it is important to adhere to several rules:
Process only dry skin (not wet, as with cuticle manicure);
The proper selection of a cutter is of great importance: a corundum one is needed for the nail plate, and a diamond one for the cuticle. It is better to polish the nail with a felt attachment;
Do not press too hard to avoid damaging the nail plate;
Additional accessories will be needed – cotton pads, files, orange sticks.
More details about the procedure can be found in machine manicure tutorials in educational videos. But if you are not confident in your abilities and want to guarantee an excellent result, get a machine manicure in the salon, with an experienced master.