Cosmetology
Experts believe that city dwellers, especially those in megacities, should visit a cosmetologist regularly, even if there are no visible issues. The PIED-DE-POULE beauty salon invites you to experience preventive cosmetology procedures and special programs.
Types of Cosmetology Services at
PIED-DE-POULE
Our cosmetology services feature professional staff, modern equipment, quality cosmetics, and an individualized approach to solving client concerns.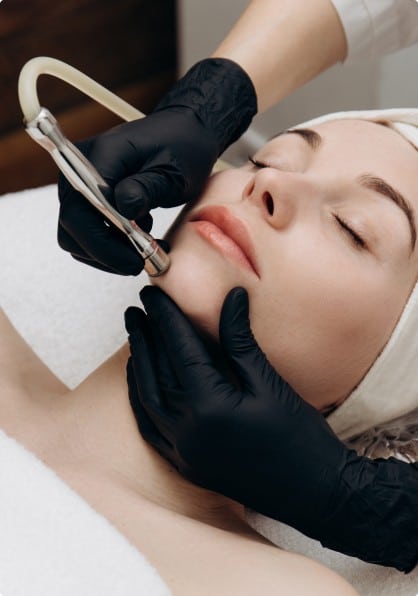 Today,
PIED-DE-POULE

's cosmetology "menu" includes the following services:
Facial cleansing and peels
Mesotherapy
Carboxytherapy
Epilation
Book for haircut
Facial Cleansing
This procedure is recommended every 2-3 months. Dust, sebaceous secretions, makeup residues, and more accumulate on the skin's surface. Professional cleansing allows penetration into the deeper layers of the epidermis, where home skincare products can't reach.
At PIED-DE-POULE studio, you'll be offered several types of facials. The procedure's steps are the same in all cases:
Cleansing with lotions
Application of a product that opens and loosens pores
The actual cleansing - either manual, using ultrasound tools, or a combination of methods, depending on the individual choice made after consultation with the cosmetologist
Application of a soothing mask
The result is fresh and truly clean skin. Regular professional facials will help maintain skin health for years to come.
Professional peels gently remove dead skin cells, restore your skin's radiant appearance, and stimulate its renewal.
Book for facial cleansing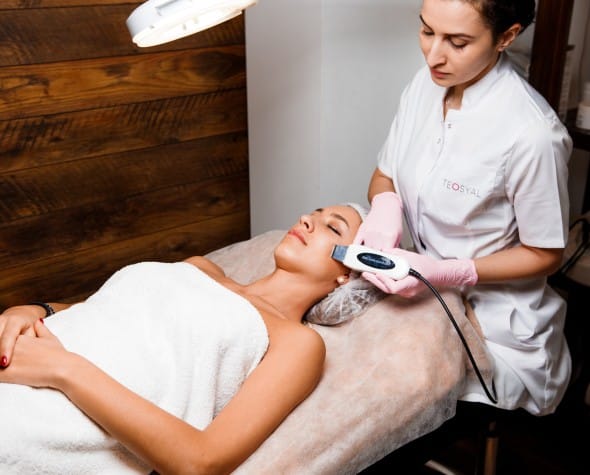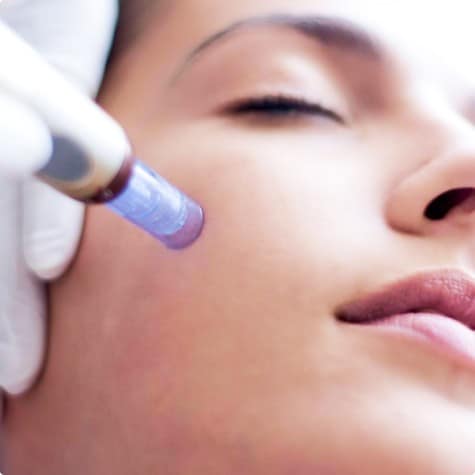 Mesotherapy
This involves injections into the face or abdominal area at a depth of 1-4 mm.
Mesotherapy is used for:
Eliminating wrinkles, evening out skin tone, and firming facial skin. Before the procedure, the cosmetologist cleanses the face and applies an anesthetic gel. The process ends with antiseptic and a soothing mask.
As an auxiliary procedure for weight loss - in this case, special lipolytic substances are injected to break down fat cells, helping combat excess fat in the abdomen and sides.
Body mesotherapy is also performed under local anesthesia. For the best results, a course of 5 to 10 sessions with intervals of 5-7 days is recommended.
We won't sugarcoat it; the procedure can be uncomfortable. Some clients experience slight swelling and bruising afterward. However, these discomforts quickly subside, and the effects of mesotherapy, such as radiant and smooth skin, last for several months.
Book for mesotherapy
Carboxytherapy
At a relatively low cost and painlessness, carboxytherapy effectively addresses issues such as sagging skin, dark circles, and dull skin tone.
The procedure involves applying a gel with a high carbon dioxide content to the face. Carbon dioxide activates the skin's protective functions and stimulates collagen production, the key to maintaining youthful skin.
Book for carboxytherapy
Epilation
Hair removal is one of the most popular cosmetology procedures among PIED-DE-POULE clients.
The following types of epilation are offered:
Waxing (hot, warm, cold)
Sugaring
Laser hair removal
All procedures are performed by experienced professionals, ensuring maximum quality and comfort during the process.
Instrument Sterilization
PIED-DE-POULE salons strictly adhere to all sterilization requirements for cosmetology instruments.
Metal tools (spatulas, spoons, tweezers, trays, etc.) are disinfected, cleaned, and then sterilized in autoclaves.
Brushes are processed in a UV cabinet after disinfection and are stored there until reused.
Needles for injections are disinfected and disposed of in special containers.
Our entire studio staff works in gloves and special clothing to ensure your safety. Come and see for yourself.
Book for epilation