Back Massage
Back massage helps relieve tension, relax, combat stress, and alleviate pain. Our spine is constantly under pressure due to various factors such as excess weight, wearing high heels, and prolonged sitting at a desk. All of these factors can negatively impact our overall well-being. The specialists at PIED-DE-POULE salon offer therapeutic and healing back massages.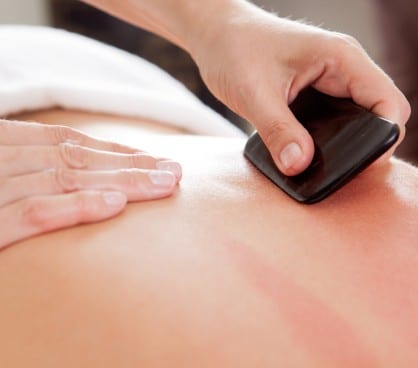 Types of Massage
The right back massage, performed by professionals, provides excellent therapeutic, cosmetic, and even psychological benefits.
There are several types of massages based on the method of application: manual, cupping, mechanical, and combined. In terms of the intended purpose:
Classic massage improves overall well-being, relaxes the back muscles, and prevents injuries.
Strengthening massage helps eliminate pain, strengthen the muscular corset and ligaments, reduce fatigue, and normalize blood circulation.
Therapeutic massage targets musculoskeletal problems, which we'll discuss in more detail in the next section.
Relaxing massage relieves stress and tension, normalizes emotional well-being.
Sports massage is used before and after intensive workouts, focusing on muscle warm-up and recovery to prevent injuries.
Back massage is also incorporated into various spa procedures and rituals. Besides relaxation, it improves blood and lymphatic circulation, detoxifies the body, reduces swelling, and enhances the functioning of internal organs.
Book for classic massage
Therapeutic Back Massage
A therapeutic back massage should be prescribed by a specialized doctor who takes into account the patient's overall condition and provides precise recommendations. Like any massage, therapeutic massage is most effective when done as a course of sessions.
The specialists at PIED-DE-POULE beauty salons have received the necessary training and can perform therapeutic back massages based on medical indications. These indications include:
Osteochondrosis.
Disc herniations.
Scoliosis.
Kyphosis.
Intercostal neuralgia.
Lumbago and sciatica.
Therapeutic back massage is also recommended for individuals experiencing regular headaches, discomfort in the limbs or trunk that worsens with movement. Additionally, medical drainage massage is recommended for bronchitis and pneumonia. The physical impact helps clear mucus from the lungs, leading to faster recovery.
Book for therapeutic massage
Contraindications for Back Massage
Despite the overall beneficial effects of massage on one's well-being, there are certain conditions where it is either not recommended or contraindicated. These include:
Acute conditions such as infections, fevers, and inflammations.
Blood disorders or a tendency to bleed.
Pus-filled processes, even if they don't affect the back area.
Fungal infections of the skin and nails.
Trophic disturbances, thrombophlebitis, and thrombosis.
Inflammation of lymph nodes.
Active tuberculosis.
Osteomyelitis.
Tumors, both malignant and benign.
Venereal and dermatological diseases, among others.
Individuals with heart problems should also exercise caution. Conditions like heart failure, tachycardia, and arrhythmia may be contraindications.
In any case, it is advisable to inform the salon specialist about any existing health issues. If in doubt, consult a specialist before beginning a massage course.
Results of Back Massage
At PIED-DE-POULE salons, passionate professionals are dedicated to their craft. Therefore, no matter the issue you come with, you will receive an effective solution.
Back massage, depending on your needs, will contribute to improving your quality of life in various aspects:
Physical well-being: relief from pain, tension, and movement restrictions, overall improvement.
Psychological well-being: relaxation, reduced stress levels, increased productivity.
Experience a course of back massage, full-body massage, or any targeted zone at PIED-DE-POULE salons. Feel rejuvenated, liberated, and ready for new achievements!
For the massage's pricing details, please contact the salon's phone numbers.
Book for back massage