Wedding hairstyles for guests
Modern weddings are becoming more and more like scenes from Hollywood movies. Every detail is thought out in advance and fits into the overall aesthetic. This also applies to the appearance of the guests. Often, a certain dress code is already prescribed in the wedding invitation. Relatives and friends are advised to adhere to it.
Wedding hairstyles for guests are characterized by solemnity, but at the same time laconicism. It is extremely important to strike a balance between originality and elegance, because the main characters are the bride and groom, and attention should not be diverted from them. Only a professional hairdresser can cope with this task. In our salon, you will be prepared for a responsible event as quickly and inexpensively as possible.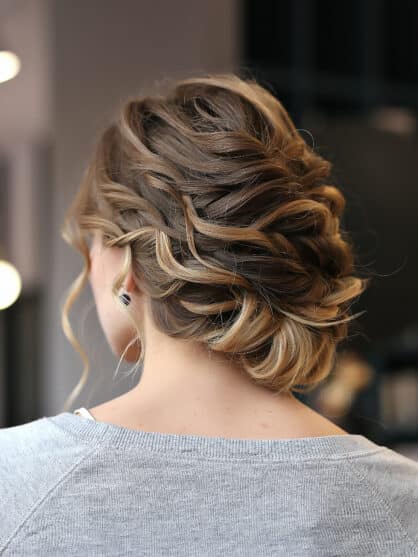 The nuances of choosing wedding hairstyles for guests
The main rule of a guest's wedding hairstyle is comfort. The styling should not be overly complicated or voluminous. You will have to spend at least half a day on your feet: signing at the registry office, a photo shoot, a banquet, dancing and competitions. All these activities will put your hairstyle to the test. Despite the activity during the day, not a single curl has the right to get out of the bun.
The second important nuance that a hairstyle at a wedding should meet is appropriateness. If the event has a specific theme, it is important to consider the chosen style and incorporate it into your hairstyle. In addition, the styling should be matched to the dress and makeup. Only in this case you will get a holistic and beautiful image.
Any, even the simplest hairstyles for wedding guests will look spectacular if complemented by accessories. Fresh or artificial flowers, ribbons, hairpins, wreaths are the most commonly used.
Beautifully styled loose hair will emphasize the attractiveness of any woman. If you don't know what hairstyle to choose, give preference to careful curls. They look especially stylish with an evening dress.
Women's hairstyles for wedding guests
A classic choice for women with long hair is an elegant bun. This hairstyle is suitable for absolutely everyone, regardless of face shape and hair type. The bun can be styled high for a more formal look or low and relaxed for a casual vibe. For a romantic touch, you can intentionally leave a few curled strands loose from the hairstyle.
A neat and high ponytail looks great on both wavy and straight hair. Additional volume is obtained by piling. A silk or velvet ribbon is the perfect decoration for the tail.
Braided hairstyles have been on-trend for several seasons now:
Waterfall braid. The spikelet is braided in a circle, but some of the strands are released from it.
Greek braids. The hairstyle consists of several small braids of different widths and complexity.
"Fishtail. A braid of two strands that looks very unusual.
A flower of braids. A spikelet or braid is woven from corrugated hair, and then rolled up in the form of a flower.
The "shell" is more often chosen by girls with long hair. Such a wedding styling for guests emphasizes the status of the lady, emphasizes the long neck and graceful shoulder line.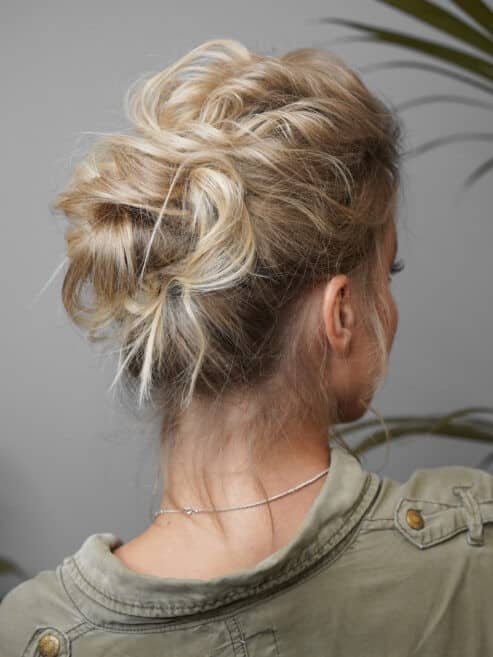 Men's hairstyles for a wedding
Many people think that men do not need the services of makeup artists and hairdressers. However, an invitation to a solemn event obliges you to look neat. Men with coarse hair are recommended to get a haircut and trim the length around the temples for a polished look.
For those with soft hair from 5 cm long, you can style it. Styling the hair by combing it back gives a stylish appearance. Long hair is recommended to be pulled into a ponytail to avoid carelessness in the image.
The masters of our salon are ready to help you create a wedding look. Sign up for a preliminary consultation to discuss all the nuances. Hairdressers will help you choose the best hairstyle and tell you about the prices for services.
Prices for
wedding hairstyles for guests