Podiatrist
As practice shows, a large number of people - practically every second person - face various problems with their feet. Calluses, corns, fungus, cracks on heels, ingrown nails - these are common occurrences that are not easy to deal with on your own. Timely identification of pathological changes and the selection of the right treatment is where a podiatrist comes in - a specialist capable of providing comprehensive medical care for your feet. To schedule a consultation with an experienced podiatrist, contact the PIED-DE-POULE beauty salon: we'll take care of your feet.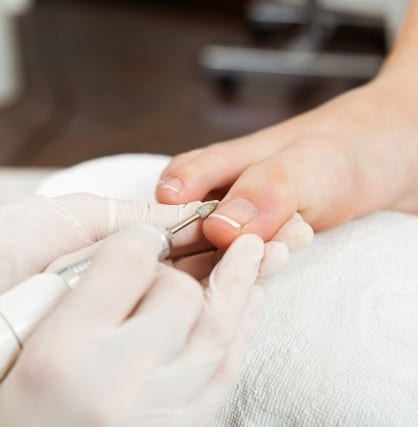 Medical Pedicure
Not everyone knows that, in addition to regular cosmetic pedicures, you can also order a medical pedicure in a professional salon. This is primarily a preventive and therapeutic procedure, where special equipment and accessories are used in addition to the usual tools. Such procedures can only be performed by a master with special training, having specific knowledge and skills in dermatology, orthopedics, surgery, and even endocrinology. A medical pedicure includes a complex of procedures for caring for the skin and nails of the feet.
The session proceeds in the following sequence:
Examination and conversation with the patient.
Assessment of the problem and selection of the treatment course.
Processing of the feet (individually for each case).
Additional consultations, recommendations for further care.
Book for podiatrist
When is a Podiatrist Consultation Necessary?
Practically, with any foot condition or ailment, seeking advice from a podiatrist is recommended. The most common complaints from our clients include:
Ingrown toenails.
Deformation of nail plates.
Cracks on heels.
Hyperkeratosis.
Corns and calluses.
Warts.
Fungal infections.
Excessive sweating.
Diabetic foot.
Painful sensations in the foot.
Don't wait for the problem to worsen. As practice shows, periodic visits to a podiatrist are beneficial even without any visible or palpable changes: often, the specialist detects disorders at an early stage, before pronounced symptoms appear. And especially, if you experience unpleasant itching, discomfort in your feet, notice deformation of the foot, or changes in the color and structure of your nails - schedule an appointment. If necessary, the podiatrist may refer you to another specialized doctor for additional examination.
Wart Removal
Warts are infectious benign growths. This is a fairly common problem, as the infection is easily transmitted through cracks in the skin. These growths need to be monitored and removed in a timely manner, as they gradually increase in size and spread. As with other conditions, self-treatment is not advisable: it's better to trust a specialist. The podiatrist at the PIED-DE-POULE salon will select the optimal method of removal and perform the necessary procedures for flat, plantar, periungual warts of various sizes. Some warts disappear after one procedure, while others may require several sessions. To ensure maximum effectiveness and 100% safety, we use only proven techniques and disposable or sterilized instruments.
Book for wart removal
Treatment for Cracked Heels
The problem starts with small fissures that gradually deepen. If cracks are not addressed in a timely manner, the feet take on an unsightly appearance, but what's worse - the increasing sores become painful and uncomfortable. Instead of trying to deal with cracks on your own, turn to an experienced podiatrist for help. The specialist will identify the cause of the problem and develop an optimal care program. This typically includes a hygienic medical pedicure with equipment that softens and smooths the skin. Cracks can be a result of improper care, vitamin deficiency, as well as a result of fungal infections - in all of these cases, an individual course of therapy is developed.
Book for treatment for cracked heels