Balayage
In situations where you want to update your image a little, highlights will be a great help. Partial hair coloring allows you to refresh your look without drastic changes. Balayage is one of the most popular coloring techniques. This is a fashionable subtype of highlighting that involves soft color stretching. In our salon, you can get your hair balayage done at an affordable price. Make an appointment right now and get a free consultation from our specialist.
Features of the balayage coloring technique
Most often, balayage is a delicate gradient from a dark color at the roots to light shades at the ends of the hair. However, there are also bolder options using brighter colors. The peculiarity of applying lightening dye is that the lower part of the hair is processed first. And then the master makes several strokes resembling the shape of the Latin letter V.
After the strands are lightened, they are tinted to make the appearance of the hair as harmonious and natural as possible. Balayage coloring is not always about using only two shades. A professional hairdresser selects the number of colors depending on the length and tone of the hair, the color type of the appearance, and the client's wishes.
What is good about balayage?
Modern highlighting techniques are designed to emphasize the natural beauty of women, and balayage coloring confidently continues this trend. Its main advantages are as follows:
Hair health is not significantly compromised. Only a portion of the strands is treated with lightening mixtures, ensuring that the scalp and hair roots remain untouched.
The way the hair grows back is practically invisible. This means that re-coloring can be carried out no more than once every six months.
Due to the "sun glare" of the colored strands, the hairstyle acquires depth and additional volume.
Thanks to this highlighting, there is no need for complex styling. Even a light curl looks impressive on bleached hair.
Balayage hair coloring is suitable for women of all ages. Celebrities like Melania Trump, Halle Berry, and Jessica Alba are fans of this coloring technique. The length of the hair is not a limiting factor, as balayage can be applied to both bob cuts and long curls.
Balayage allows you to enhance the eye color and bring out the natural glow of the skin. This coloring technique provides a modern and luxurious look, making it a perfect fit for the image of a 21st-century businesswoman.
The expert stylists at our salon are ready to assist you with your transformation, as balayage is one of our specialties. During your appointment, you can discuss and choose the desired shades of hair color. Our skilled professionals will take into account all of your preferences and deliver quick and efficient results. Don't hesitate to book your appointment now!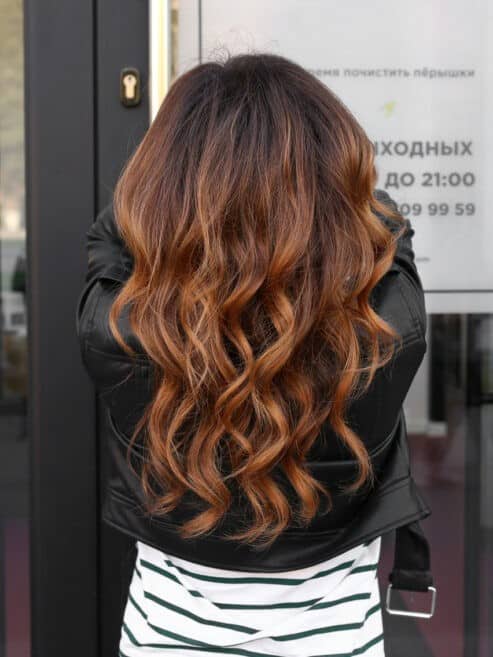 | | |
| --- | --- |
| Root colouring | 230 zł |
| Single process color | 260 zł |
| Hair toning | 200 zł |
| Hair colour removing | 220 zł |
| Diagonal highlights | 380 zł |
| Baby lights | 330 zł |
| Balayage | 440 zł |
| Shatush | 460 zł |
| Airtouch | 650 zł |