PRX-T33 Peel
Facial chemical peels are among the most effective salon procedures. The method involves removing the upper layer of dead skin cells by dissolving them with special substances. After the procedure, the complexion noticeably improves, fine lines and wrinkles caused by dry skin are smoothed out. However, alpha-hydroxy acids used in these products can cause skin redness that may last for several days.
PRX-T33 peel is a revolutionary method that gently treats the skin without causing side effects like redness.
The product for the PRX-T33 medium-depth peel from the well-known Italian company WIQOmed penetrates deep into the layers of the skin without damaging the epidermis. The regeneration process is initiated from within.
Advantages of PRX-T33 Peel
In our salon, you have the opportunity to get PRX peel at a very affordable price, benefiting from the knowledge and experience of the best dermatologists. This procedure has several advantages over other types of peels:
Suitable for all seasons
Causes minimal discomfort
Provides long-lasting effects
PRX-T33 peel takes about 20 minutes.
What's in the PRX-T33 Product?
Three components of the PRX-T33 product work together, each performing its role:
Trichloroacetic acid cleanses the pores, has anti-inflammatory properties, and enhances cell turgor.
A three percent solution of hydrogen peroxide is known for its antiseptic action and oxygenates the skin.
Kojic acid reduces melanin production and removes the dead epidermal layer.
The main component is kojic acid, known for its gentle exfoliating properties.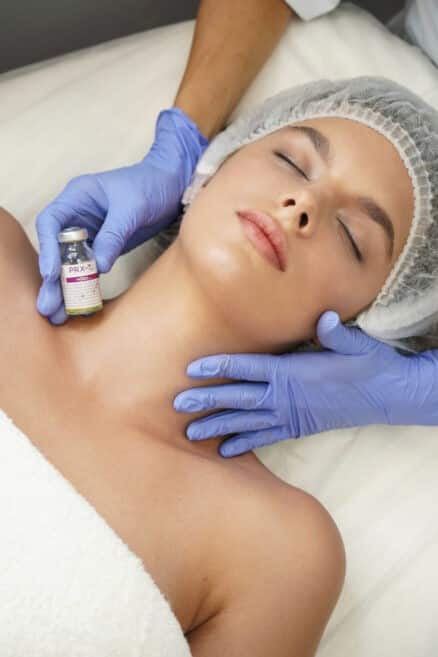 Indications for PRX-T33
You can order PRX-T33 at an average market price in our salon. This procedure has shown excellent results for the following skin issues:
Age-related changes: hyperpigmentation, dryness-induced fine lines and wrinkles
Scars and marks from acne and pimples
Dull skin complexion
PRX-T33 peel is also beneficial for treating seborrhea, dermatitis, and is used as a preventive measure against photoaging.
Who Should Avoid PRX-T33 Peel?
Due to the gentle nature of the product, there are few contraindications for its use. The procedure should be avoided only by pregnant and breastfeeding women, as well as individuals with open wounds or inflammation.