Wedding hairstyles
One of the key elements of a bride's image is her hairstyle. It should emphasize the beauty and look harmonious with the dress. High-quality styling will last the whole evening and will not deteriorate under the weight of the veil and accessories.
The masters of our salon are ready to help you choose a wedding hairstyle. A qualified hairdresser will select a styling option based on your wishes and appearance features.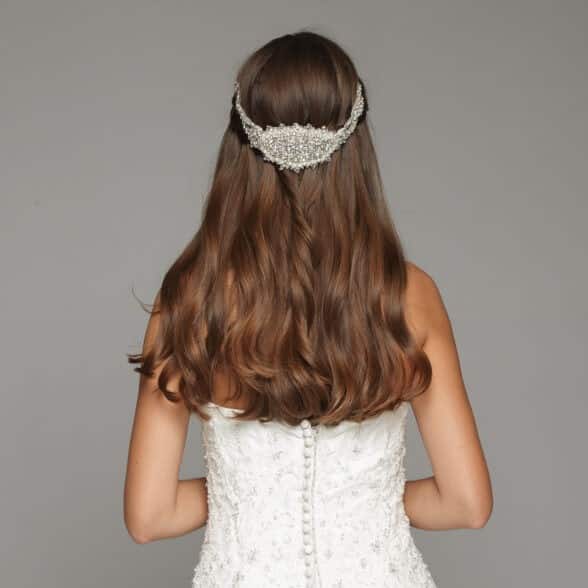 Features of choosing a wedding hairstyle
It is almost impossible to make a beautiful hairstyle for a wedding without the help of a stylist. However, it is quite possible to prepare for the first meeting with a specialist. To do this:
You can gather examples or references. It will be much easier for the master if you show which wedding hairstyles you like and which ones you don't. This way, you are guaranteed to get the desired result and insure against disappointment.
Choose a dress. The dress and the bride's hairstyle should complement each other, so you need to take into account the features of the cut and style.
Don't forget about makeup. A high, strict hairstyle may not be in harmony with natural nude makeup. Neither will delicate weaves with smoky eyes. Makeup artists agree that makeup and styling should complement each other.
When the hairdresser knows the basic information about your style, he or she will be able to quickly choose the perfect styling. Skilled hairdressers can create women's hairstyles for a wedding in just a few hours. Often, a trial styling is performed so that the bride can understand whether it suits her.
Evening hairstyles for a wedding: types and styles
Recently, the most popular wedding hairstyles are:
Buns captivate with their versatility and elegance, making them perfect for securing the veil. Weaves allow for the creation of an original and romantic look. Curls look particularly luxurious when paired with fitted dresses with a train. Additional hair care procedures may be required to make your hair look strong and shiny, and our salon offers such services.
When it comes to medium hair, wedding styling offers a great opportunity for experimentation. Hollywood curls, the "cold wave" technique, "seashell" hairstyles, and complex braids all look fantastic with this hair length. Adding a touch of royal chic can be achieved with a sparkling tiara placed in a voluminous hairstyle.
Even with a short haircut, you can create a beautiful wedding styling by lightly curling the strands or incorporating a thin braid. In such cases, the focus is often on the jewelry, such as a wreath, fresh flowers, or a decorative hairpin.
Preparing for a wedding in Warsaw can be a busy time, so we recommend scheduling an appointment with us in advance. Choose a convenient time and come meet with our hairdresser to discuss all the details. We are looking forward to seeing you!
Prices for
wedding hairstyles