Manicure
Just like your face, your hands are always on display. That's why they need regular care, specifically professional manicures. Contrary to common misconception, a manicure involves more than just painting your nails. It encompasses comprehensive care for your hands and nail plates. At the PIED-DE-POULE beauty studio, a wide range of nail care services is available, including manicures, pedicures, extensions, corrections, and nail art.
Types of Manicures
There are several types of manicures, each designed for specific purposes, nail treatment methods, coating types, and unique designs.
Let's begin by distinguishing between regular cosmetic and medical manicures. The primary goal of the former is to achieve flawless, aesthetic hands, while the latter primarily addresses various skin and nail plate issues.
Different types of manicures vary significantly in treatment methods and techniques. For instance, the classic procedure involves pre-soaking the skin in a warm bath, followed by the removal of cuticles using cutting tools (scissors and clippers). This is known as the classic cuticle manicure, applicable in any nail condition, even in severe cases. A more modern alternative is the European non-cuticle manicure, where cuticles are softened with removers rather than cut. Besides manual treatment, a manicure can be performed using a special tool called a nail drill, known as machine manicure.
A salon manicure procedure doesn't necessarily end with decorative nail coating. Upon the client's preference, various caring and restorative compositions can be used. If nail painting is decided, the master may offer nail polish, gel, or shellac.
Regarding nail art options, there is an immense variety, with new styles and ideas emerging each year. Just to name a few: stamping, lace, moon, gradient manicures, watercolor, and so on.
Book for manicure
French Manicure
The beloved technique of many women - the elegant French manicure. Its distinctive feature is the two-tone coverage with a recognizable white edge of the nail plate, also known as the "smile line." This design was first introduced over 40 years ago at a fashion show in Paris, and it has never gone out of style. One of the advantages of the French manicure is its versatility: it suits nails of different shapes, whether long or short, and is appropriate for both everyday and formal occasions.
In its classic execution, the French manicure involves the use of clear nail polish in natural shades for the nail and white for the free edge. However, today, French manicures are done in a huge variety of options. Fashionistas happily wear colored and translucent French designs, options with rhinestones, patterns, stickers, and lace at the smile line. The master selects the design considering current trends, client preferences, and the characteristics of nail shape and length.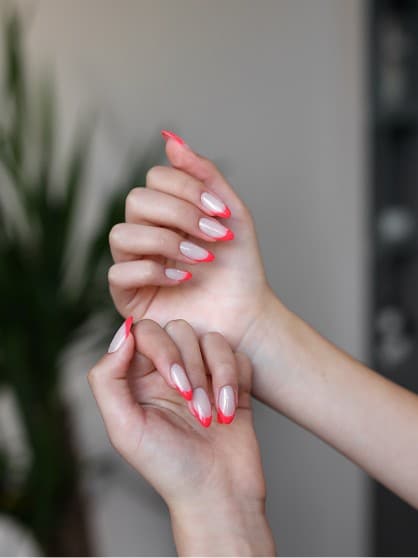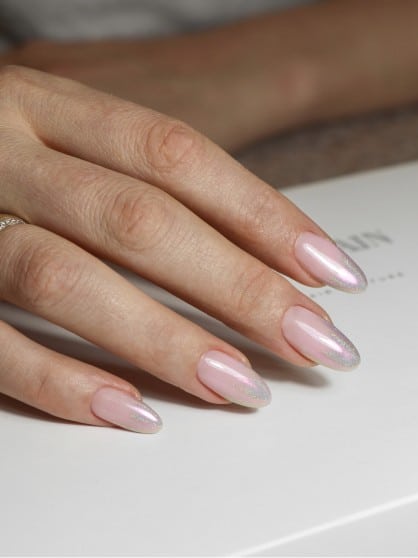 Machine Manicure
In addition to manual care techniques, our salon masters are proficient in machine technologies. With the help of a special nail drill and additional interchangeable tips:
Old nail polish is removed.
Nails are shaped as desired.
The side areas of the nail plates are delicately treated.
Cuticles are treated (removed).
Nail grooves are cleaned.
Rough skin areas on the hands are treated.
Nail plates are polished.
Following this, prepared nails are coated with colored gel polish or three-phase restorative gel, if strengthening the plates is required.
The advantages of machine treatment include high safety levels, painlessness, and a long-lasting effect (with regular drill treatment, cuticles grow back slower compared to manual manicures). However, to achieve good results, experience and quality equipment are essential – which our salon masters possess. In some cases, a combination of machine and manual techniques may be advisable.
Wedding Manicure
The wedding gown, makeup, hairstyle, and, of course, the bride's hands with the wedding ring - all of these are in the spotlight. Therefore, thorough preparation is needed to create the look. It is recommended to start preparing for this important event no later than two months in advance. In this time frame, you can have several care procedures, allowing you to bring your hands and nails to a beautiful state. In some cases, nail extensions may be needed, and it's better to do this in advance to get used to the new nails. The manicure itself is usually done on the eve of the celebration.
The manicure should match the color, style, and form of the dress and accessories, making it unique for each bride. The classic option is the universal French manicure in natural light shades with a snowy "smile line" – it suits almost any attire. For those who prefer intricate designs, the master can suggest an ethnic-style manicure, along with additional embellishments like artistic painting, lace prints, rhinestones, and glitter. The final decision lies with the charming bride.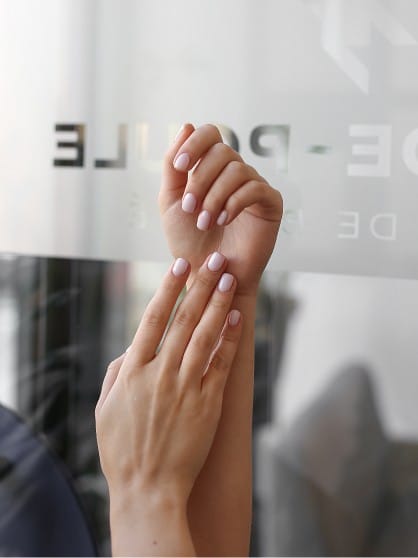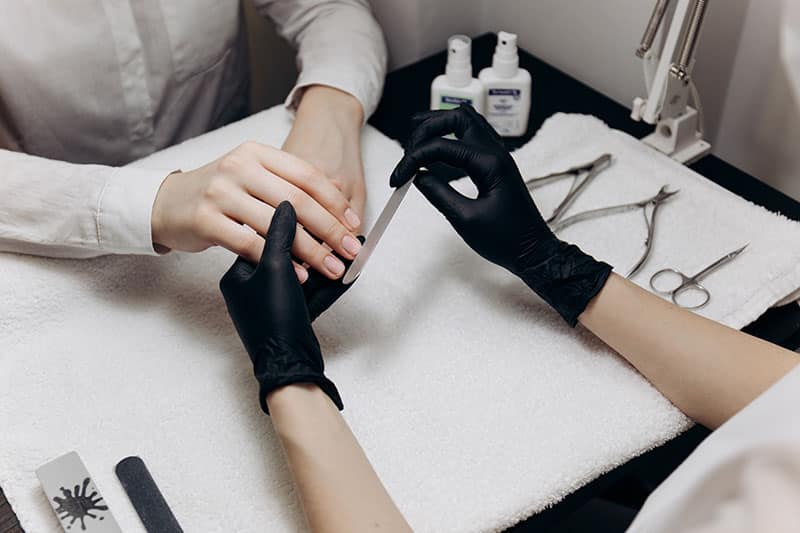 Instrument Sterilization
All masters at the PIED-DE-POULE salon are knowledgeable about and adhere to the rules of instrument sterilization. To ensure the maximum level of safety for our clients, we follow strict medical standards for disinfection and sterilization.
Instrument treatment for manicures is carried out in the following sequence:
Mechanical cleaning under running water with a soapy solution.
Cleaning with disinfectants.
Sterilization (the method and equipment for sterilization are chosen depending on the type and material of the instrument).
Processed instruments are stored in sealed bags or in a UV sterilizer.