Machine Pedicure
Taking care of yourself means paying attention to every detail. Not only your face, hair, and hands, but also your feet. Pedicure is as essential as a visit to the hair salon or makeup artist. We recommend it not only for lovely ladies, but also for the gentlemen.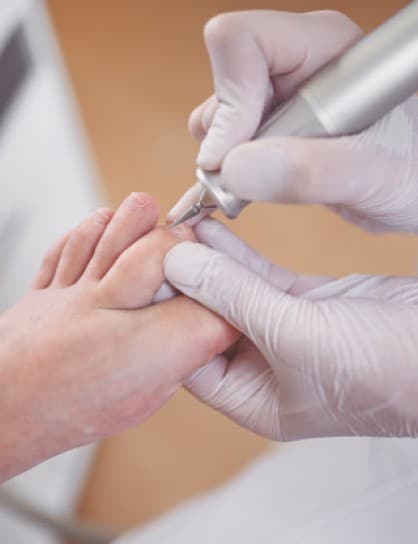 Well-groomed feet guarantee your comfort and confidence.
Progress does not stand still - traditional "manual" cosmetology is being replaced by innovations and machine techniques. Nail service is no exception. The advantages of innovative pedicure with specialized equipment compared to traditional manual methods are several:
No traumas or discomfort.
Does not require steaming.
Suitable for all skin types.
More gentle and careful.
Massage effect, improving blood circulation.
During the procedure, you can relax and enjoy, or you can opt for other services such as manicure, styling, or eyebrow shaping. Save time and take comprehensive care of your beauty.
Book for machine pedicure
Professionalism and Exclusive Cosmetic Products
Our main distinction is our approach to each client, taking into account their physiology, lifestyle, and style. This applies to pedicure as well.
Our specialists devote all their attention to you and your feet - they are talented masters with years of experience who continue to perfect their skills, ensuring you have access to premium beauty services.
We rely on cosmetic products from brands we trust. Often, these are exclusives only supplied to our salons - Zuda, Padopharm, Footlogic.
We guarantee complete safety and sterility - attachments undergo triple sterilization and are stored in craft bags.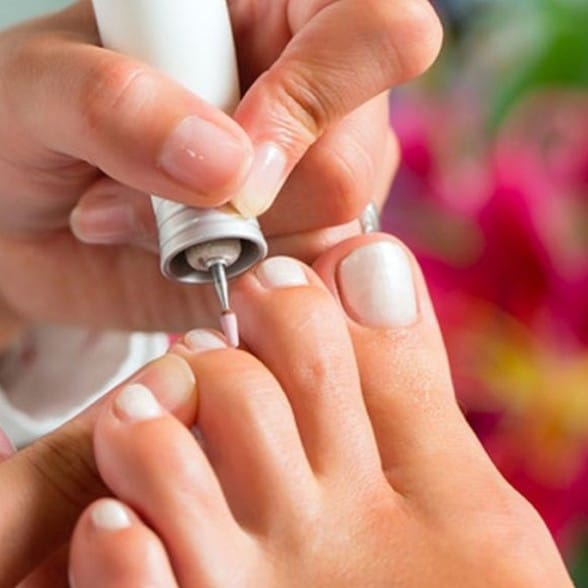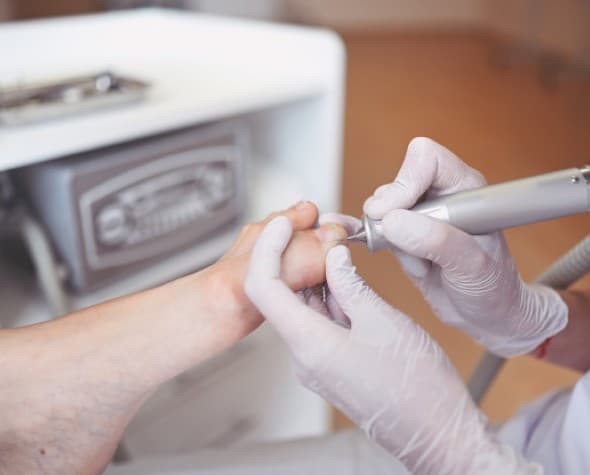 Stages of Modern Nail Service
Providing services tailored to individual needs is a characteristic feature of professional cosmetology.
Consultation is the first stage of service. During a comfortable conversation, tasks are set based on diagnosis and personal guest preferences.
The foot is treated with special products, including disinfectants that prevent contamination and infections. Unlike the traditional method, hot water steaming is not required.
The actual pedicure is done with a special machine, the attachments of which are changed according to the area and intensity of the impact. Roughened skin is removed with a special micro-file, and interchangeable attachments file, polish, and moisturize nails and cuticles.
In the final stage, the clean and soft skin of the foot is soothed with nourishing creams, while you relax and enjoy.
Optionally, decorative materials and varnishes can be applied as desired.
Machine pedicure is a more gentle and careful approach.
It is recommended to undergo it at least once a month to keep your feet in perfect condition. However, the frequency of salon visits is individual. Based on their experience, the pedicure service master will advise you on how often to professionally care for your feet and how to take care of them at home.
High-quality service and professionalism of cosmetology masters should be accessible to a wide audience - not only celebrities and showbiz stars. We want to prove this in practice, and our price list confirms our aspirations.
Book for machine pedicure