Bangs haircut
Bangs are back in fashion, and they are proudly worn by celebrities like Taylor Swift, Margot Robbie, Halle Berry, and Billie Eilish. However, choosing the right shape and length for this hairstyle element is not easy. Factors such as hair density, facial features, and overall appearance need to be taken into account. In our salon, we offer not only bangs cutting but also creating a harmonious overall look.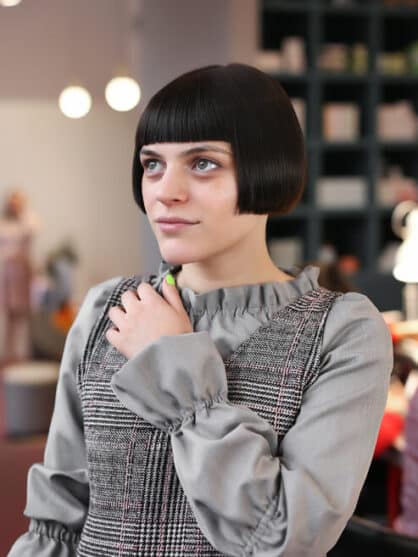 The nuances of cutting bangs
A professional hairstylist selects the most suitable bangs style for women based on their unique features. For example, elongated bangs are suitable for those with round faces, while straight bangs are better for individuals with elongated faces. Graduated bangs can accentuate cheekbones, while curtain bangs emphasize a natural look.
Parted bangs look great on straight hair. Asymmetrical bangs can visually elongate the face shape, making them a good choice for individuals with fuller cheeks. Rounded bangs create a unique look, gently framing the forehead and temples.
For children, straight bangs are often the best choice. The bangs should ideally reach the eyebrows, but not extend further. Complex designs and unconventional shapes are not suitable for young girls.
In our salon, you can get your bangs cut at an affordable price. Our experienced hairstylists will quickly determine the optimal shape to give your hairstyle a perfect finish. Feel free to show examples of your favorite looks, and our professionals will make your vision come true.
| | |
| --- | --- |
| Bangs | 55 zł |
| Women's haircut | 140 zł |
| Haircut luxury haircare products | 200 zł |