Makeup
Every woman possesses the skills to apply makeup, but the outcome of a professional makeup artist's work stands out significantly. Makeup done by a skilled professional exhibits the following characteristics:
a perfect balance of expressiveness and naturalness;
a harmonious combination of textures and shades;
neatly hidden skin imperfections;
correctly placed accents.
To achieve a flawless appearance and perfect makeup, many women opt for the services of beauty specialists, especially when important events are approaching.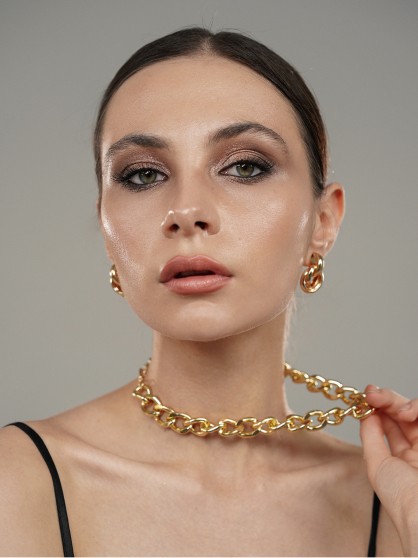 Types of makeup
There are various types of makeup depending on its intended purpose, which can be grouped as follows:
daytime makeup
evening makeup;
cocktail makeup;
festive makeup;
wedding makeup.
In our beauty salon, professional makeup is performed by certified makeup artists who are well-versed in modern techniques and possess extensive experience. They are capable not only of creating evening, daytime, and wedding makeup, but also of crafting an image that harmoniously complements your personality. The cost of the service depends on the complexity of the makeup and the cosmetics used.
Book for makeup
Choosing makeup
A woman who appreciates her reflection in the mirror exudes confidence and beauty, achieving a harmonious connection between appearance and inner state. The specialists at PIED-DE-POULE beauty salon are well-versed in the secrets and nuances of creating skillful makeup. They know how to:
how to properly prepare the skin;
how to use foundations, concealers and highlighter;
how to shape eyebrows;
how to make lips look seductive;
where to place accents.
Based on the purpose of the makeup, the makeup artist determines the design approach and selects the appropriate lash length and lipstick color. They can also conceal facial imperfections, such as making eyes appear more open. If needed, they can enhance lips, reshape eyebrows, or extend their line.
Leveraging their extensive experience, makeup artists can craft any image and style of makeup, ranging from natural and daytime looks to wedding and avant-garde styles. Individual features and personal preferences are always considered. Skillfully executed makeup imparts a healthy, radiant appearance to every woman's face. The cost of the service varies with complexity.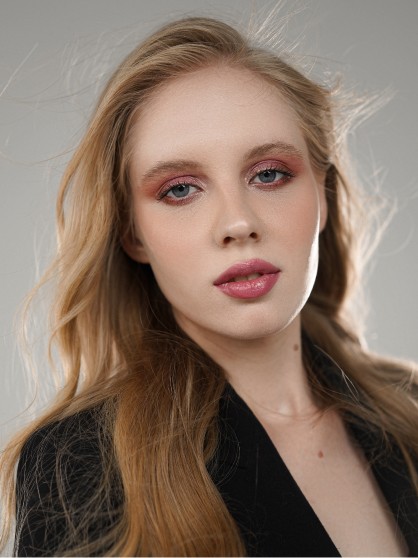 Daytime makeup
The primary goal of daytime makeup is to accentuate natural beauty. Salon experts recommend this style for women who prefer a more natural and understated look, avoiding bright colors and excessive detailing. Typically, a restrained range of cosmetics is used, including blush, mascara, and lip gloss. Nude colors are favored to match skin and lip tones.
Professional daytime makeup is ideal for businesswomen, enhancing strengths and concealing flaws while maintaining a polished, subtle appearance. While brighter colors are permissible, they should adhere to a monochromatic scheme. Proper accent placement is crucial, whether on the eyes or lips. Each color serves a distinct purpose, allowing specific effects to be achieved.
Metallic, satin, matte, and even iridescent shades work beautifully. This versatility enables makeup artists to experiment with daytime smokey eyes and monochromatic looks. The primary aim is for makeup to complement the client's personality, striking a balance between boldness and subtlety.
Evening makeup
In contrast to the reserved elegance of festive makeup, evening makeup embraces heightened expressiveness. In the salon, the makeup artist meticulously shapes the face's contour, emphasizes the eyebrows, and defines the eyelashes. This approach effectively conceals any potential skin imperfections, while drawing attention to sensual, captivating lips.
Evening makeup incorporates deeper, more saturated shades, exuding allure and intrigue. The use of false eyelashes, glitter, shimmering eyeshadows, and other embellishments enhances the seductive appeal of the look.
At PIED-DE-POULE beauty salon, makeup artists exclusively employ professional cosmetic products from top global brands, selected with care and rigorously tested. These hypoallergenic cosmetics cater to diverse skin types and individual preferences, guaranteeing long-lasting makeup resilience. Our salon is dedicated to helping you achieve a distinctive look for weddings, evenings, and special occasions.
Each woman possesses a unique essence, and makeup serves as a tool for unlocking her irresistible, sophisticated charm. Makeup artists at PIED-DE-POULE go beyond trends, aligning style with personality, appearance, and even physique.
With us, you will consistently radiate timeless elegance and allure!