Children's haircut
Children's haircuts are a separate type of hairdressing. The master must be not only a professional, but also a subtle psychologist to find a special approach to a small client. After all, if you take proper care of your hair from childhood, it will be strong and healthy throughout your life. If you are looking for a salon for children's haircuts in Poland, make an appointment with us! A friendly atmosphere and a super master are waiting for you.
Features of children's haircuts
Regular haircuts are recommended for children from the age of two or three. Until this time, parents can shorten the overgrown strands themselves. But when the child has grown up, it's time to make an appointment with a professional. The first visit to a beauty salon is an exciting experience that should bring positive emotions. If the child likes the procedure, he or she will be happy to come again and will start paying attention to his or her appearance.
Children have much softer and thinner hair than adults. The hair cuticle contains fewer layers, which means it is much more delicate. These factors should be taken into account when choosing a haircut type. Complex hairstyle shapes are not suitable, as they will not hold on thin hair. Long bangs or asymmetrical strands should also be postponed for later.
The main criteria that a children's haircut should meet:
Simplicity. Children cannot do their own styling, so the hairstyle should be as concise as possible.
Convenience. Even during physical activity, hair should not get in the eyes.
Accuracy. When the hair starts to grow back, it should keep its shape.
Another important nuance is speed. The master needs to work quickly and at the same time efficiently. No more than 40 minutes are allotted for work. Kids can spin around, be capricious, ask questions, and grab tools, but a children's hairdresser should not lose concentration. Keeping a sociable mood, he cuts the young client's hair, turning the process into an exciting game.
Haircuts for girls
Regular visits to a beauty salon will help instill a sense of beauty in a young princess. Pleasant cosmetic procedures not only provide a good mood but also boost self-confidence. The most common children's haircuts for girls in Warsaw are:
All variations of "cascades" and "layers" are suitable for long hair. Such hairstyles can be adorned with hairpins, ribbons, and bows. Bangs can also be incorporated, but they should not cover the eyes. If you plan to braid the girl's hair in braids and cornrows, it is better to choose a uniform length.
You should visit a children's hairdresser every 3-4 months. The master will keep the bangs neat, cut the ends, and monitor the health of the hair. To care for your hair, use hypoallergenic shampoos and a soft comb.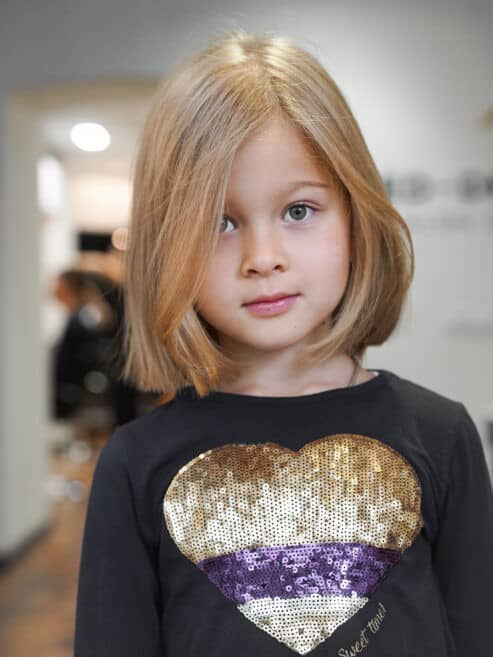 Haircuts for boys
Modern boys are no less fashionable than girls. A stylish haircut is the basis of a young gentleman's image, even if he is still a kindergartner. Most often, boys have their hair cut short, but longer hairstyles are gradually becoming fashionable.
Our children's hairdresser in Warsaw offers the following types of haircuts for kids:
Hedgehog;
Boxing;
Semi-box;
Cap.
If desired, the master can 'draw' an original pattern on the temples and back of the head using a clipper.
Preparing for a visit to the hairdresser
To make your visit to the hairdressers pleasant and time-consuming, you should prepare for it. Preschool children may be a little afraid of an unknown procedure, so you should tell them about all the nuances. Tell your child that adults do haircuts, that it is interesting and fun. You can come up with a fairy tale or an interesting story.
With schoolchildren and teenagers, you should discuss the haircut itself. Talk to your child, ask them how they want to look. Don't be categorical, even if you don't like the idea of a haircut at all. Suggest an alternative, choose the most suitable option together. Show the master photos with examples so that the result meets all your expectations.
Stay close to your child during the procedure. Being surrounded by strangers can be frightening for a baby, so support him or her with your presence. Praise your child and admire his or her transformation. A selfie in a large mirror and the opportunity to spin a little in the chair help to relax.
Having chosen one master, try to always make an appointment with him. The child will get used to the hairdresser and perceive him or her as a friend, which will greatly facilitate the process. Our salon is the perfect place for the first haircut! You can make an appointment right now.