Ultrasonic Facial Cleansing
Modern individuals cannot and should not allow themselves to have an unkempt appearance. There are thousands of ways to take care of oneself today, and ultrasonic facial cleansing at the salon is just one of them. While it is a cosmetic procedure and not a medical one, its result is an improvement in skin quality.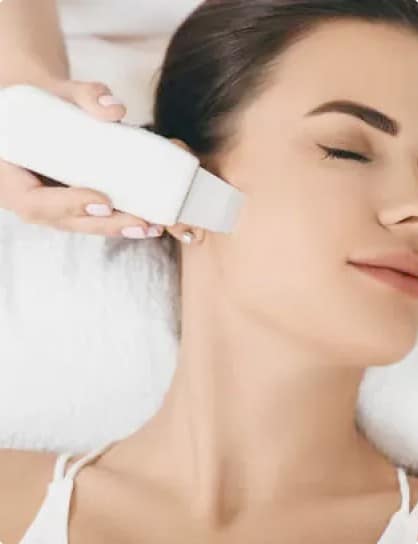 How often is mechanical facial cleansing needed at the salon?
Skin imperfections often arise due to poor diet, lack of sleep, stress, and exposure to the harsh environment. City dwellers are compelled to take care of themselves more frequently because pollution, smog, dust, and the hustle and bustle are not conducive to one's well-being. Fortunately, the PIED-DE-POULE beauty salon, making it easy to access this procedure.
To book a session, visit a dermatologist. A consultation with a doctor will help identify the cause of the problem. If it is cosmetic rather than medical, feel free to call our administrator and schedule an appointment at the nearest salon at your convenience.
How much does ultrasonic facial cleansing cost?
The cost is calculated individually and depends on several factors, including the level of the issue, the number of prepaid procedures, the depth of cleansing, and any promotional offers.
In any case, seeking the services of our cosmetologist won't put a dent in your budget. Ask the salon administrator about the cost of ultrasonic facial cleansing, and you will be pleasantly surprised. Every woman can afford to be beautiful.
Book for ultrasonic facial cleansing
Professionals Are Everything
Theory, professional skills, knowledge of products, and the ability to choose the right cream or lotion for a client are all essential skills. Would you want to entrust yourself to an amateur? Rest assured, we will place you in the hands of professionals with rich experience and expertise. Moreover, each specialist is a skilled psychologist and can understand your desires with half a word. Ultrasonic facial cleansing at the beauty salon is an event for many women, a transformation ritual, and we make this ritual enjoyable.
How is ultrasonic facial cleansing performed by a cosmetologist? The cost of the procedure
The device vibrates, transmitting impulses to the body, while a small spatula "scrapes" away the epidermal scales. The mechanics of the procedure involve peeling or exfoliation and micro-massage. The intensive impact on the body improves blood circulation, which, in turn, enhances skin nutrition, resulting in a healthy complexion and increased skin turgor.
At PIED-DE-POULE, we use imported equipment. Our deputy director is a regular visitor to international exhibitions, from which he brings back new techniques and technology. We stay abreast of the latest trends in the world of cosmetology and rejuvenation. Everything that elegant French and luxurious Italian women do, lovely ladies can now do too you.
How does ultrasonic facial cleansing in the salon work?
Each master works individually with every guest. The initial minutes of conversation with the master resemble an interview. It's necessary to gather maximum information, conduct tests, and carefully plan the work to ensure you achieve the best results.
The master takes into account your skin type, age, and individual characteristics. Every answer you provide is a step towards perfect cleansing. If you want to be irresistible, to captivate your loved one with velvety flawless skin, and to impress your friends with your youthful appearance, do not hesitate to share all the details with the cosmetologist.
After collecting your medical history, the master proceeds with preparatory work. Any remaining makeup and creams are removed. The warmed-up skin is treated with the ultrasonic scrubber following the application of a gel, which opens up the pores and loosens their contents. The process is pleasant, and the results are visible after just one session: your skin becomes softer and more attractive.
The conclusion of each meeting with the master involves the application of a nourishing mask. Excited epithelium (cleansed of dead cells and scales) actively absorbs the beneficial substances, allowing them to be assimilated. Try ultrasonic facial cleansing at least once; 9 out of 10 of our clients are satisfied with the results and schedule the service again.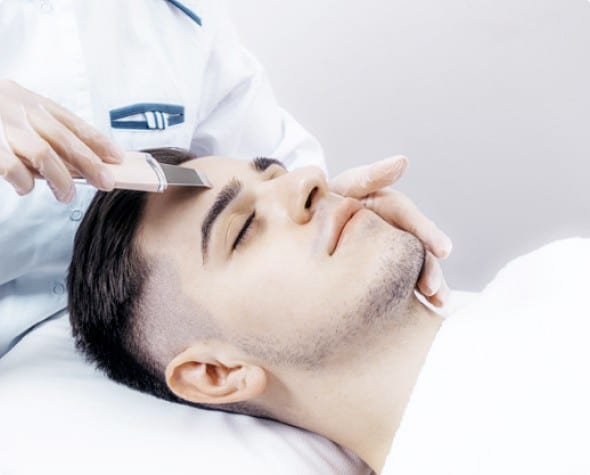 How to Become Our Client?
Find us on social media. PIED-DE-POULE is on Facebook, Instagram, YouTube, and Telegram. Contacting us via messenger is convenient, free, and allows you to view our work.
You can always visit any of our salons in person. Experience the quality of our service and schedule an appointment.