Hair Removal
Removing unwanted hair with wax and sugar paste is a popular and safe procedure that will give your skin smoothness for several weeks. At PIED-DE-POULE salons, specialists will choose the optimal hair removal method and provide post-procedure care advice.
Waxing Hair Removal
Waxing technology involves the removal of unwanted hair using warm or hot wax. Hot wax is used for delicate areas, applied with a spatula, and removed by hand. Warm wax is applied to the legs and arms, which are less sensitive areas than, for example, the bikini or abdomen, and is removed using paper strips.
Both warm and hot wax are applied in the direction of hair growth and removed with sharp movements in the opposite direction.
Before the procedure, the skin is treated with a special lotion. Afterward, any remaining wax is removed with a remover, and a soothing lotion is applied to the epilation area. Overall, waxing hair removal takes about 30-40 minutes, and particularly challenging areas may take up to an hour.
Advantages of waxing hair removal:
Masters have a wide range of products at their disposal, such as waxes for coarse hair, sensitive skin, pregnant clients, and more.
For successful waxing, hair length of 7-10 mm is sufficient.
Skin remains smooth for up to 3 weeks.
As for the drawbacks, the most common complaints are:
Waxing hair removal can be quite painful. Although PIED-DE-POULE salon masters have extensive experience and high qualifications and try to minimize discomfort, it is impossible to completely eliminate the unpleasant sensations.
Ingrown hairs. It cannot be said that waxing causes their appearance, but this is indeed a common problem.
Nevertheless, waxing remains the most affordable way to forget about unwanted hair for a relatively long time. It is ideal for those with coarse hair, as regular waxing makes them finer and softer.
Book for hair removal
Sugar Hair Removal (Sugaring)
Sugaring, or hair removal with a special sugar paste, is another common method of getting rid of unwanted body hair.
The sugaring technique is similar to waxing. The key difference is that the sugar paste is applied against the direction of hair growth and removed in the direction of hair growth. The paste's texture ensures that hair approximately 3-5 mm in length is effectively removed.
Advantages of sugaring hair removal:
The procedure is less traumatic, as the paste has a comfortable temperature, which eliminates the risk of burns. The method of application and removal also provides less pain compared to waxing.
The paste is made from natural ingredients, minimizing the risk of allergies.
The paste residue is easily removed from the skin with water, and clothing is not affected.
Ingrown hairs are less common after sugaring, but there are still some downsides.
Sometimes, due to individual hair characteristics, the same area may need to be treated multiple times.
Not everyone enjoys the feeling of sticky sugar on the skin.
In delicate areas, hair can grow in eight different directions, requiring the paste to be applied and removed in small patches, whereas strip wax can cover the entire area and be removed all at once.
Sugaring is usually chosen by individuals with sensitive skin and those who prefer natural cosmetics.
No matter which hair removal method our clients choose at the PIED-DE-POULE salon, our professionals never cease to emphasize the importance of proper at-home skin care after the procedure. Utilize scrubs and moisturizing lotions, as they promote faster healing and help prevent ingrown hairs.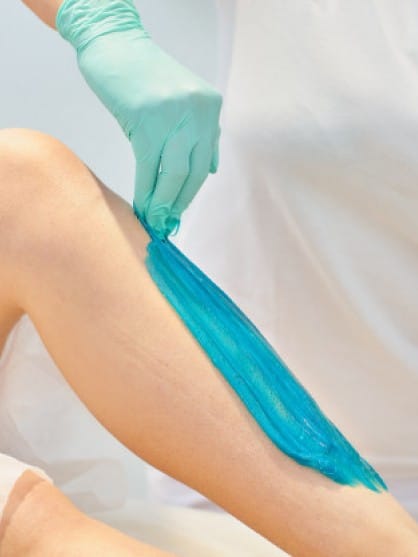 Advantages of Waxing and Sugaring Over Other Hair Removal Methods
When choosing between a razor, creams, or laser, waxing and sugaring have several advantages.
At a reasonably moderate cost, they:
Are effective for a relatively long time, from 2 to 4-5 weeks.
Do not damage hair follicles like laser hair removal.
Are less allergenic than creams and less traumatic than razors.
The qualifications and experience of the esthetician play a crucial role. Specialists at PIED-DE-POULE salons regularly undergo training, staying updated on industry innovations and trends.
Contraindications for Hair Removal Procedures
Like many cosmetic procedures, waxing and sugaring have several contraindications.
These include:
Diabetes mellitus.
Varicose veins in the treatment area.
Skin damage such as cuts, ulcers, eczema, etc.
The first and last trimesters of pregnancy.
Individual intolerance to the hair removal product's components.
At PIED-DE-POULE salons, we pay careful attention to each client. Our specialists will select the hair removal method that best suits your hair type and will meet your expectations for the procedure.
Book for hair removal